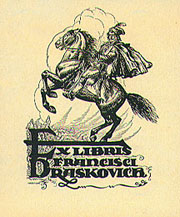 These Ex Libris plates are from my father's (Ferenc Draskovich) collection from the 1920's and 1930's.
He was an agricultural engineer and was an officer of the famous "huszar's" during WW I. He lived in Kalocsa, Hungary.
Most of the bookplates presented here are reduced in size and cropped. The originals were printed on cream or yellowish paper but to reduce computer memory were converted into B&W images.
Each plate tells a story about its owner, such as the agriculturist turned to Hungary's one of most famous confectioner (Ferenc Hauer). It indicates the hunter, the stamp or the book collector, scientist, surgeon, coroner, judge,and many others.
Many of the shown plates are the work of the famous graphic artist Jenõ Haranghy, (1894-1951) who gave these plates personally to my father.