Historic photographs from Kalocsa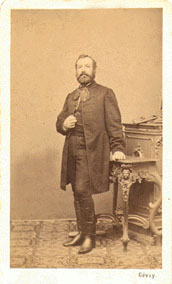 felsöbakai Rezsõ Simig my great grand father
who organized the volunteer fire fighters in Kalocsa more than 120 yrs ago.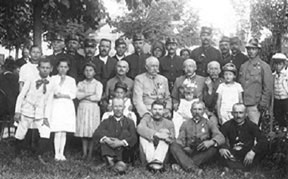 Volunteer fire fighters at a picnic in 1920. In the middle row with a girl on his lap is
Károly Simig, captain of fire fighters. Picture courtesy of Mrs. Gyula Szirányi, nee: Veronika Simig.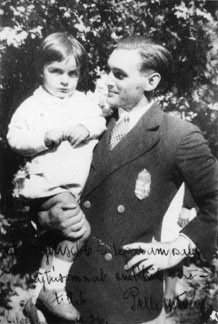 István Pelle Olympic champion in Kalocsa 1936
He dedicated this picture to me (György Draskovich)
Photo: Ferenc Draskovich jr.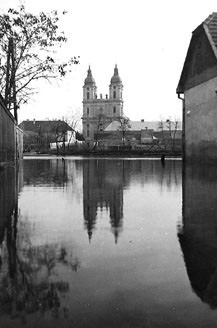 The flood of Danube in 1941. Photo: Károly Rökk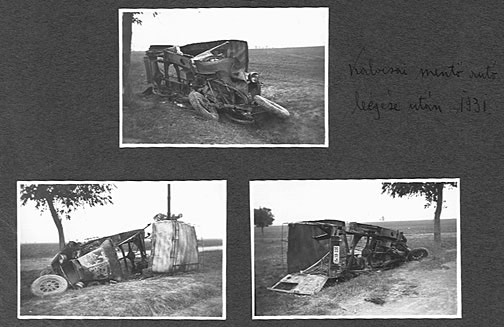 The first ambulance vehicle of Kalocsa turned over and burned. (1931)
Photo: Ferenc Draskovich jr.

Carrying wheat towards the railroad station on Lajos Kossuth street
Photo: Ferenc Draskovich jr. (1931)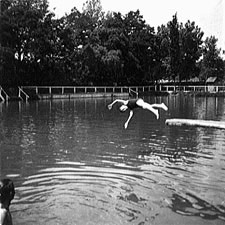 This lovely Tomori Strand swimming pool with natural warm water does not egzist any longer.
Photo: Ferenc Draskovich jr. 1936.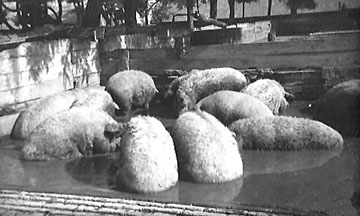 Mangalica pigs ready for export at our pig farm at Homokgyõr near the railroad station.
Photo: Ferenc Draskovich jr. 1931
camera: Voiglender 6x6
---
In the thirties these nonius horses could be seen dayly on the street of Kalocsa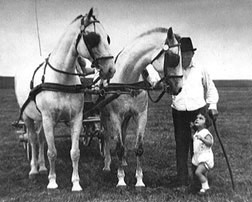 Pluto and Nelly are looking at me. Beside me is György Kocsis, the manager of Ujmajor puszta.
Photo: Ferenc Draskovich jr. 1932
---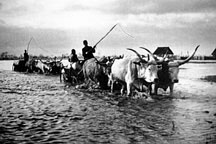 Supply arrived to Kalocsa on these oxen carts during the 1941 flood of the Danube.
Photo: Ferenc Draskóy-Draskovich 1941

---
I was six years old when I received my first camera in 1936. These pictures are from my first roll with that camera. They survived war, deportation from Kalocsa, by the communist regime, immigration to Canada etc..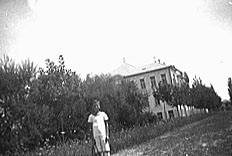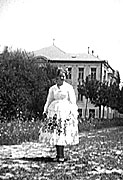 Tthe new Hospital building with my friend and with a girl in folk costume.
Photo: György Draskovich 1936)
camera: Kodak Box-Tengor 6x9
---
My name from Draskovich was changed in 1938.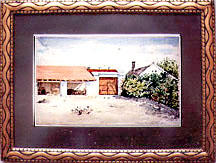 My grand parent's yard at Haynald St. 6 (today Hunyadi St.)
Water color by: Szegedi Maszákné, Barrabás Maca .